3 Lesser-Known Beauty Supplements
3 Lesser-Known 
Beauty

 Supplements

Supplements for the health and beauty of hair, skin, and nails have long had their place on our shelves. Many nutrients and herbs are well-known for these purposes. Biotin is famous for its support of hair and nails, for example, and certainly these days everyone has heard of collagen for skin enhancement. In this newsletter we will explore three lesser-known beauty supplements, substances which are generally not included in targeted formulas but have powerful benefits for skin and more.
Lutein
Justly famous for eye health, including its support for ARMD (age-related macular degeneration), 
lutein
's action in protecting vision arises from its ability to protect the delicate eye tissues from UV light. It accomplishes this through its powerful antioxidant activity which extends to skin as well. Lutein benefits skin in multiple areas. Along with its sister molecule zeaxanthin, lutein has been shown to protect the skin from photoaging (damage due to sunlight exposure) as well as photocarcinogenesis (sunlight-induced skin cancer development). Skin is exposed to numerous environmental assaults that lead to damage and premature aging. UV light in particular creates reactive oxygen species/oxidation (damage) in the skin. The primary defense against this damage is the antioxidant capacity of the skin.
In several mice studies oral lutein intake significantly decreased multiple inflammation markers in skin after exposure to UV rays. Lutein was also shown to accumulate in the skin of supplemented mice. Thus, lutein modulates the skin's response to UV radiation and may contribute to the defense against the damage caused by solar radiation. Lutein does far more than merely protect from light damage, however.
A study in Italian women aged 25-50 years was designed to measure efficacy of lutein upon five skin physiology parameters (surface lipids, hydration, photo­protective activity, skin elasticity, and skin lipid peroxidation). Lutein was administered either orally, topically, or in combination. Results obtained showed that the oral lutein supplement increased skin hydration by 38%, skin elasticity by 8%, and the level of lipids by 33%. Lutein also decreased oxidation of lipids — the process that causes skin degradation — by 55%. In the group that received both oral and topical lutein, hydration increased by 60%, elasticity by 20%, and lipids by 50%. Lipid oxidation decreased by 55%.
This powerful xanthophyll carotenoid (does not convert to vitamin A) is found in many fruits and vegetables. Kale, collard and turnip greens, and spinach are among the best sources, with egg yolks, tangerines, oranges, and corn also providing a good supply.
Evergreen carries a large selection of 
lutein
 products in our vision section. 
Our own label
 offers a 
lutein/zeaxanthin combination
 with added carrot root extract. Also in our vision section but equally useful in the skin 
beauty
 area is Evergreen's 
Ultimate Eye Formula
, providing 10 mg of lutein along with a bilberry extract, known for strengthening collagen as well as protecting eye tissues. Both these products are vegan, gluten free, and non-GMO. 
Jarrow Formulas
' 
Lutein
 is a 20 mg dose in an oil-containing softgel, helpful as this carotenoid is better absorbed with fat. From 
Solgar
 comes a whopping 
40 mg dosage
 in a safflower oil base, sure to protect and beautify your skin as well as protect your eyes. They also offer a standard 
20 mg dosage
 product.
Astaxanthin
This incredibly powerful antioxidant's biochemical structure is both water- and fat-soluble, giving it the ability to protect the entire cell, both inside and out. Thus 
astaxanthin
 is able to protect the entire body from oxidative stress and damage. Its skin benefits are impressive, to say the least. It supports skin during sun exposure (UV radiation), as shown in a 2002 study. A group of people was given 4 mg of astaxanthin a day for two weeks, after an initial test was done to see how much UV light was needed to redden their skin or cause mild sunburn. The results were that 4 mg per day increased the amount of time it took for UV radiation to redden the skin. As such, this carotenoid may be termed an internal sunscreen, also protecting the skin from photoaging.
Astaxanthin's skin benefits go beyond simple UV protection. A 2006 study appeared in the journal Carotenoid Research. A group of women with an average age of 47 were divided into two groups, one receiving 4 mg per day of astaxanthin and the other receiving a placebo. At the end of six weeks, over 50% of the women taking the supplement reported improvements in skin moisture content, roughness, fine lines and wrinkles, and elasticity. Not only were there self-described skin improvements across multiple parameters, but the womens' skin was also examined by dermatological instruments. These examinations showed clear improvements in fine lines and wrinkles, elasticity and skin dryness, and moisture levels. Another study using a topical astaxanthin (cream) showed a reduction in the appearance of wrinkles. Truly this king of carotenoids shows itself to be an internal cosmetic, improving skin and reversing signs of aging and damage on many levels.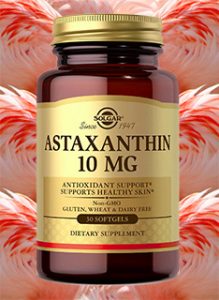 Evergreen stocks several potencies of 
astaxanthin
, with doses ranging from 4-12 mg of this amazing nutrient. 
Solgar
 offers a high potency 
10 mg softgel
 free of all common allergens including gluten.
Sea Buckthorn
The 
sea buckthorn
 berry is one of the most nutrient-dense fruits on earth. It provides a full array of carotenoids, tocopherols (vitamin E), plant sterols, and minerals. In addition it contains high levels of vitamin C and essential fatty acids, in particular the rare omega-7 palmitoleic acid. This vast range of nutrients gives sea buckthorn oil its number of health-supporting abilities, ranging from an antioxidant and anti-inflammatory to a mucous membrane tissue regenerator. The palmitoleic acid content in sea buckthorn oil is responsible for much of the skin support and regeneration activity. This fatty acid is a constituent of sebum, the skin's own protective oil coating, and is found in high concentrations in the skin of young people. Levels decrease as one gets older, and this is partly responsible for the skin's aging process. In both oral and topical applications, sea buckthorn oil has been shown to reduce different types of dermatitis such as atopic eczema and irradiation-induced dermatitis. This anti-inflammatory effect was studied in depth in Russia where the oil has been used to treat radiation burns.
Beyond its anti-inflammatory effects, this oil supports skin health and 
beauty
 in general. It has been shown in studies to significantly slow down the aging process of mature skin by hydrating skin, increasing softness and elasticity as well as decreasing the amount of deep wrinkles. Moisture levels of skin are increased with oral intake or application of the palmitoleic-acid containing oil.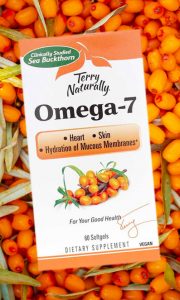 Evergreen carries several forms of this unique berry/oil. From 
Terry Naturally
 comes 
Omega-7
, a vegan softgel clinically shown to relieve skin dryness by up to 48%. This product is non-GMO and gluten free. From 
Life-Flo
 comes an organic 1 oz. sea buckthorn seed oil for cosmetic use. It may be added to creams and lotions or used straight on skin. The high levels of carotenoids in the oil give it a deep red-orange color and if used straight it can stain skin due to this concentration. Only a few drops are needed undiluted.
To learn more about our other 
beauty
-enhancing supplements, check out our newsletters by clicking on 
LEARN
 at the top of our webpage. Let Mother Nature's nutrients support your radiant health and 
beauty
, inside and out.
---
Back to Blog